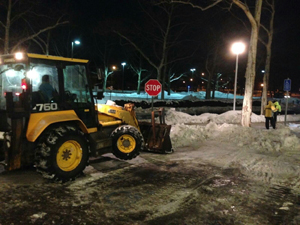 CREATIVE SNOW - COMMERCIAL SNOW PLOWING AND DEICING

The majority of storms in our area fall into the two- to seven-inch range, but it's important for the company you choose to handle your snow plowing and deicing needs to be fully equipped to handle emergency conditions of 8" to 15" or more.
At Creative Snow by Cow Bay, each approaching winter storm is given an Estimated Storm Category Rating (ESCR) by the Cow Bay management staff. This is the same method used in our municipal contracts. The rating (Severity 1-5) will be used by Cow Bay to determine appropriate manpower and equipment needs to address each snow/ice event at your business location(s). The category rating is used to pre-plan and stage assets in the most efficient manner possible to keep your business up and running, and your employees and customers safe and out of harm's way.
Commercial Snow Plowing and deicing services may include pre-treatment (liquid or granular), snow plowing, snow hauling, snow shoveling, snow removal, and remediation for refreeze, black ice, or clear ice (glaze).
We are fully insured, and our advance weather monitoring systems make sure we are always prepared long before the first flurry.
Storm after icy storm, Creative Snow by Cow Bay gets the job done.