CREATIVE SNOW - SNOW MANAGEMENT

Average annual snowfall
for Long Island, lower NY, and Connecticut is 22-34 inches a winter seaso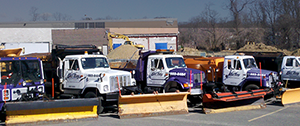 n. The majority of storms fall into the two-to-seven-inch range. We maintain our own repair staff and facilities that remain open th
roughout the duration of a snowstorm, and we also maintain back up snow removal equipment as well. This insures if there is a breakdown of a primary vehicle there is a back up ready to go into service with little or no lost time to the customer
.
Creative Snow delivers more than 30 years of experience in snow plowing, shoveling, stacking
and removing the dense snow and ice in the tri-state area.
Our reliable fleet of snow removal equipment includes snow plows of all sizes, payloaders, and blowers. From hospitals and banking facilities to shopping malls and apartment complexes, plow trucks are radio dispatched 24/7, including holiday
s. Independent shoveling crews are solely dedicated to clearing your sidewalks and pathways.

We are fully insured, and our advance weather monitoring systems make sure we are always prepared long before the first flurry. Our comprehensive Snow Management Plans include protocols for initial storm response, snow and ice emergency conditions, emergency callout procedures, and pre-planning for storm priorities and ratings.

Storm after icy storm, Creative Snow by Cow Bay gets the job done.



Quality Given, Integrity Driven.




Trust Creative Snow By Cow Bay To Get the Job Done.




516.883.8484